You are subscribed to News Articles for U.S. Department of Defense. This information has recently been updated, and is now available.

Pentagon Provides Updates on Support for Operations in Yemen, Somalia
08/04/2017 03:26 PM CDT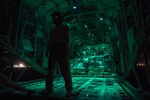 Air Force Senior Airman Garrett Cornett, a loadmaster from the 75th Expeditionary Airlift Squadron, waits for a cargo load during a mission in Somalia in support of the Combined Joint Task Force-Horn of Africa, May 26, 2017. Air Force photo by Master Sgt. Russ Scalf
(Click photo for screen-resolution image);high-resolution image available.
Pentagon Provides Updates on Support for Operations in Yemen, Somalia
By Cheryl Pellerin
DoD News, Defense Media Activity
WASHINGTON, Aug. 4, 2017 — Pentagon spokesman Navy Capt. Jeff Davis updated the press here today on U.S. operations with local partners in Yemen against al-Qaida in the Arabian Peninsula and in Somalia against al-Shabab.
In Yemen's Shabwah Governorate yesterday, according to the United Arab Emirates' Ambassador to the United States, Yemeni government armed forces launched a major operation against al-Qaida in the Arabian Peninsula with support from UAE and U.S. forces.
AQAP in Yemen
Today, Davis said, a small number of U.S. forces "are supporting our regional counterterrorism partners in ongoing operations in Yemen against [al-Qaida in the Arabian Peninsula] to degrade the group's ability to coordinate external terrorist operations and to use Yemen territory as a safe place for terror plotting."
Shabwah Governorate has a heavy al-Qaida in the Arabian Peninsula presence, he added.
U.S. support in this part of Yemen is a continuation of what U.S. forces have been doing there since Jan. 29, when a raid by U.S. forces killed an estimated 14 al-Qaida in the Arabian Peninsula terrorists.
According to a U.S. Central Command news release at the time, "the raid is one in a series of aggressive moves against terrorist planners in Yemen and worldwide," and that similar operations have produced intelligence on al-Qaida logistics, recruiting and financing efforts.
U.S. support to the Yemeni people enhances stabilization efforts in the region, he added, noting that eliminating the influence of al-Qaida in the Arabian Peninsula and the Islamic State of Iraq and Syria in the region "will significantly degrade extremist activity in the area and set conditions for stabilization efforts in Yemen."
Davis said U.S. forces continue to conduct air strikes in Yemen against terrorist targets.
"Since Feb. 28 we've conducted more than 80 strikes against [al-Qaida in the Arabian Peninsula] militants, infrastructure, fighting positions and equipment, and this is based upon the authorities granted in the operation that began" with the January raid, he said.
Al-Shabab in Somalia
On July 30, U.S. forces took part in a raid near Tortoroow in southern Somalia that targeted a senior member of al-Shabab.
"We can now confirm," Davis said, "that the strike killed one of al-Shabab's senior leaders, Ali Mohammed Hussein, also known as Ali Jabal."
The senior al-Shabab terrorist was one of the organization's leaders, he added, responsible for leading al-Shabab forces operating in the Mogadishu and Banadir regions, and planning and executing attacks against the Somali capital, Mogadishu.
Hussein used the Lower Shabelle region, a known al-Shabab safe haven, as a hub for these activities, Davis said, adding that his removal disrupts al-Shabab's ability to plan and conduct attacks in Mogadishu and to coordinate efforts among al-Shabab regional commanders.
"We continue to work there in Somalia in coordination with our partners with the Somali Defense Forces and other allies," he said, "to systematically dismantle al-Shabab and to help achieve and bring stability and security throughout the region."
(Follow Cheryl Pellerin on Twitter @PellerinDoDNews)