You are subscribed to News Articles for U.S. Department of Defense. This information has recently been updated, and is now available.

Face of Defense: Airman Learns Life Lessons From Restoring Classic Cars
08/08/2017 07:32 AM CDT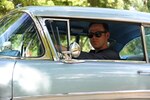 Master Sgt. Bobby McCrary, 22nd Force Support Squadron NCO in-charge of Honor Guard, poses for a photo in his 1958 Chevy Impala, July 13, 2017, at his home in Derby, Kan. McCrary grew up going to car shows and swap meets with his grandfather, who rebuilt classic cars. (U.S. Air Force photo/Senior Airman Jenna K. Caldwell)
(Click photo for screen-resolution image);high-resolution image available.
Face of Defense: Airman Learns Life Lessons From Restoring Classic Cars
By Air Force Senior Airman Jenna K. Caldwell
22nd Air Refueling Wing
MCCONNELL AIR FORCE BASE, Kan., Aug. 8, 2017 — Air Force Master Sgt. Bobby McCrary, 22nd Force Support Squadron noncommissioned officer in charge of the Honor Guard here, grew up going to car shows and swap meets with his grandfather, who rebuilt classic cars. They would travel up and down Texas together, looking for parts and meeting other car enthusiasts who carried years of experience and irreplaceable pearls of wisdom.
With his dynamic lifestyle as a child, the transition into an ever-changing environment like the Air Force was familiar to McCrary. He joined the Air Force in 2004 and continued a family tradition of working on heating, ventilation and air-conditioning systems.
"I would say that after restoring the vehicle and working with him, going into engineering was natural for me," he said. "I threw my first torch weld in the trunk of the [Chevrolet] Impala. It took about a week. It had a little rust in the trunk, so I had to cut the floor pan out. Being my first weld, it was pretty bad. Before we sent it off to paint, he wouldn't let me grind down the weld. He told me, 'No. That weld is staying there. I want you to remember this.'"
When he was 13, he restored a 1958 Chevy Impala with his grandfather. It was his first restoration, and his grandfather was right, McCrary said — restoring the car would be an experience he would never forget.
"I can remember laying face-up on the concrete in the shop, staring up at the car, just overwhelmed with how much work it was," he said. "It was frame-off restoration. Every nut, bolt and piece of metal that was bent was rebuilt by us. [My grandfather] let me pick the color of the interior and the paint. It took us three summers to do it."
A Daunting Task
From conception to fruition, the restoration of classic cars can be a daunting task. Most old cars, especially in Texas, are found in scrapyards or back yards, slowly rotting into the ground. With years of the elements weathering the vehicle, every bit of rust needs to be stripped off, and almost every bolt needs to be replaced.
"First, we found the vehicle sitting on its frame — this was the foundation," McCrary said. "We pulled it into the shop and cleaned it up. Then we sat there for two hours, just looking at it and coming up with the vision — what parts we needed and what we wanted it to look like in the end. Then we just ripped it apart until there was nothing but a frame left. We labeled all the parts and started building it."
Methodical Process
Before arriving here, McCrary was a military training instructor at Joint-Base Lackland-San Antonio, Texas. With all of his experience as an instructor, he explained that the process of restoring a car from the ground up is very similar to the process of training new airmen.
"You've got to start with a clear foundation," he said. "When I was a military training instructor and the trainees would come in, the first thing we did was break them down. [Now] here at Honor Guard, I tell the airmen to forget all of the drill they've learned in the past, because this is very different. Then, we just start building them up, and at the end we throw a uniform on them and make them shine."
It's not just the technical training that McCrary learned from his grandfather. He also learned the ideals of precision and striving for excellence.
"This [car] was one of my first major accomplishments, because I started something from nothing and turned it into a beautiful piece," he said. "I found the importance of doing things right. One time, I was shaping the driver's fender, and I just couldn't get it perfect. My grandpa wouldn't let me go to the next step until it was. I spent hours and hours at night. Exhausted, I finally got it right, and it paid off."
Although his grandfather has since passed away, McCrary said, he still maintains that mindset of patience.
"I learned a lot about myself building this car," he said. "Anybody who has rebuilt a car will tell you it takes a lot of blood, sweat, tears and beers to get through with a vehicle. I learned to not make decisions when I'm aggravated. If you're working on a screw that won't go in right away and you start busting your knuckles, you'll strip the screw. Calm down and come back with a better mindset, and that screw will go right in."
The process of restoring a car is a long and arduous one. By the time the project is finished, restorers know all of the ins and outs of the vehicle, and it almost becomes part of their family.
"These classic cars, they all have soul in them," McCrary said. "A lot of my blood is in that engine-well. I know the car like the back of my hand, because I have touched every part of that car. When I get into my car and I push the gas, all the frustrations of the day disappear. You can actually feel the engine with the throttle; it becomes an extension of your body. I push the gas and nothing else matters. My mind goes blank and life is good."
McCrary was just a boy when he built the Impala with his grandfather, and he still owns it to this day. He will never sell it, he said, because it's an internal reminder of the memories of his childhood and of his grandfather.
"My memories of him are three things: driving in a car with him, working on a car with him, or him smoking a cigarette," he said. "So when he died and I went to fulfill his last request of spreading his ashes, I put some of his ashes in the gas tank."
This classic piece of Americana is not just a symbol of his grandfather or a way to blow off steam from the stresses of the military, McCrary said. It represents his philosophy and way of life.
Related Images
Tech. Sgt. Bobby McCrary, honor guard NCO in charge, holds a folded American flag before presenting it to the sister of Maj. Dean Klenda, an F-105 Thunderchief pilot who was listed as missing in action during the Vietnam War, Sept. 17, 2016, at St. John Nepomucene Church in Pilsen, Kan. Klenda was laid to rest exactly 51 years after his aircraft went down in 1965 in North Vietnam. His remains were located and verified by the Defense POW/MIA Accounting Agency. (U.S. Air Force photo/Airman 1st Class Jenna K. Caldwell)
Download screen-resolution
Download high-resolution
Air Force Master Sgt. Bobby McCrary poses for a photo in his 1958 Chevy Impala at his home in Derby, Kan., July 13, 2017. McCrary restored the Impala with his grandfather. Air Force photo by Senior Airman Jenna K. Caldwell
Download screen-resolution
Download high-resolution